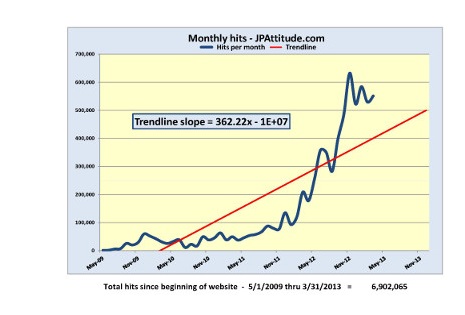 Ever been in a group of people when they start talking about something with political overtones? And everybody seems to be a liberal, and you know they're wrong—horribly, systematically, incredibly wrong—but you bite your tongue and don't say a word because you'll be starting an uphill battle?
This website is intended to make that battle less uphill and more downhill.
I want to make it easy for people to find critical facts and relevant news articles that enable them to fight for the truth... because clearly we can't count on regular journalists anymore. The regular journalists have become shills for the left—you know it, I know it, and God knows it. The newspapers and television news shows are full of leftwing propaganda, which is why those liberals discussing politics in your group feel so confident.
There are occasional gems of truth hidden in the Internet's endless crap and this website is your jewelry store.
The topics I consider major issues are listed in the column just to the right of this space on every page—that's your main menu. If you need facts and current news about any of those topics, there you go.
If you want information on a topic that isn't there, too bad. I had to limit myself, being just one guy with a laptop and a chip on his shoulder.
Speaking of the chip on my shoulder, this website also serves as a forum for me to vent. I call those vents "columns" because it makes me feel special to call them that... other people have assigned different names to them, mostly scatological.
Hey, don't laugh—somebody is reading them. I can see the number of
site visits
, which steadily rises, and I also get feedback. Who knows? Maybe Rupert Murdoch will notice and hire me.
It could happen.
You can find my vents... er, I mean columns, in the "
Archives
" which is one of the website's navigation options listed on the top right of every page (in the long landscape picture), along with a page for contacting me and other stuff. I encourage you to contact me. Any feedback that ends up in a comment section will not reveal your email address and I won't embarrass you with an over-the-top rebuttal. Promise.
Unless you engage in unclever gratuitous insults on a day when I have a headache, in which case all bets are off.
If it turns out that you really like reading my columns, you can subscribe to a simple and spam-free mailing list, which will notify you each time I post a new column. You can subscribe by clicking
here
.
Just do it. C'mon, I know the liberal Kool-Aid you get from those Katie Couric-ish bimbos on TV tastes good and it's easy to get, but maybe it would be healthy to read the other side, too, once or twice a week. I don't care if you do it because you love my viewpoint, hate my viewpoint, or simply want to laugh at me, just
SUBSCRIBE
, dammit!
(It makes me feel validated.)
April 13, 2014
- Just curious.... Your ads seem to conflict with what I have seen of your content: one promoting erotic toys, one to fight Citizens United. Just wondering if you have full control of ads. I prefer your articles to these ads. -
Anne C., Kentucky
J.P. replies: Thank you for the compliment about the website. I did sell the Gemini Pleasures ad personally and don't feel it contradicts my conservative political viewpoint. Survey after survey shows conservatives having more sex and enjoying it more than liberals. Liberals just talk about it more—tales told by idiots, full of sound and fury, signifying nothing.

As for the ad about fighting Citizens United, that would be a Google ad. I don't control what Google randomly chooses to show in that spot. Sometimes their choice is rather humorous. Once I wrote a column questioning Harry Reid's mental competence and, when I looked, it was showing a Google ad for his re-election campaign. The Google algorithm must look for words on the web page and try to match them with an ad—so when it saw the name Harry Reid, it decided a Harry Reid campaign ad was perfect.
September 3, 2013
- Stop sending me these emails. I have unsubscribed and you still send me to this website!! What a trick! If you do not take my email off your list I will file a formal complaint. I am not interested in this junk you keep sending me. For the last time STOP -
Sick of you, Michigan
J.P. replies: You unsubscribed from the email list at 5:14 PM, then immediately sent me this little feedback/complaint/stinky-pile-of-dog-crap at 5:18 PM. I assure you, there were no emails to the list in the intervening four minutes.
August 2, 2013
- Hi there! I'm Polish, living both in Belgium and sometimes in Poland. As of yesterday I stumbled upon your website and well... I instantly fell in love with your style of writing. It's dainty and so very true, evincing verve and charm. I can see you're a real truth seeker, not a slave of political correctness... I'm writing because I'd like to seek your permission to translate your articles into Polish as I'm deeply convinced that Polish people deserve to read such outstandingly written articles. As to technical questions, after translations are made, you could either publish the materials by your own, or I could make a Polish website for you. If you're interested of course. I could also search for some newspapers and/or portals interested in such subjects ;) Think it over and drop me a line. Greetings! -
Pawel (Paul) J., Poland
J.P. replies: If you would like to translate my columns into Polish and post them online, feel free to do so. All I ask is that every post contain a link to my website. And if you follow through and do this, let me know and I will link to your site from mine. Thanks, Pawel!
October 28, 2012
- First trip over from
IHTM
... You got great stuff! I spent 13 years in radio, can you use another old fart with crazy conservative views? -
Not so silent, California
J.P. replies: I'm making a note of your email address. Do you ever visit Reno? Might be fun to have you as a guest.
September 20, 2012
- Hello JPTravis!! I send you just a small and fast hello from Normandy (France) because I discovered your website! Very nice and fantastic. (also : very funny ;-) It's amazing the stories some people tell, incredible. I found your website because I have an account on Dailymotion and recently I decided to stop a bit posting videos about New World Order infos that anyone is already posting and start to focuse more on english content to translate and subtitle it into French (because the French people doesn't speak English that much; almost 100% not-understandable). And my last video I translated was
this one
about Sarah Marshak (fake nazi cross on her own door). I posted the video yesterday and within 24 hours I had +10.000 views! This because some of my videos are retransmited on one of the most popular politically dissident blog :
Alain Soral's blog here
. This guy has maybe around 300 000 unique visitors EACH DAY! My message was just a hello you and a motivation to you to continue your job because it is extremally useful. I put a link to your website and sources. Also, just to give you an idea that job like you do is useful, I have a friend on Dailymotion (codename: Hussardelamort) that is translating/subtitling tons of videos from Alex Jones. You are not alone. Good bye sir and keep continue! We will defeat them by the info ! –
Agent__001, Paris
August 26, 2012
- Hi, Here's an Anti-Obama music video by a band called These 3 Remain. It's only been up for a couple days and it's already starting to cause quite a stir:
I Am America by These 3 Remain
. I think the readers of your blog would probably be interested in seeing it. Please take a look and if you like it, do you think you could post it on your blog? Thanks! –
Barry Nicholson, Bassist/Singer, These 3 Remain, Florida
March 27, 2012
- Found your site on a
list of 150 top conservative sites
, at 149 -- but you deserve to be higher. I read your
About Me
page, noticing your "Favorite internet activity: correcting liberal stupidity." Rather than bother to tell you how hopeless I think that has to be, I went on to other sites. Finding little but spam for 148 (Big Hollywood, re-directed to Spout Out), I found this next: "Primordial Slack -- Like Pushing A Rope." What a great follow-up to your site. Rather than link you to my rants, I'll link you to my pastime,
a toy dictionary
. Thanks for your efforts. -
HD Fowler, Oklahoma
J.P. replies: Interesting site you've got. I had fun, and laughed out loud at the word "oriyenta."
July 19, 2011
- How is it that I have explored so many conservative websites, and yet only today discovered your treasure trove here? Thanks for the insight and information. Yes, will bookmark, yes, will pass it around. -
Flo J., Kansas
J.P. replies: Thanks for the compliment, and thanks for "passing it around." The reason it took you a while to discover JPAttitude.com is because this place is one of the last truly independent websites. Most everybody else is affiliated in groups which support and feed viewers to each other—the Townhall affiliates, the Breitbart affiliates, the Pajamas Media affiliates, etc. Nothing wrong with that, but what it means is that JPAttitude grows by word of mouth from like-minded individuals only. No advertising, no links from affiliates, no daily plugs on Fox News. It's a long slow process this way, and only a man with a giant ego could persevere and enjoy the process so much.
May 8, 2011
- Hey JP. HAPPY SUNDAY to you. =) Have you heard this one:
Where's the Birth Certificate?: The Case that Barack Obama is not Eligible to be President
? Jerome Corsi is at it again! Your thoughts? -
Amy B., Reno
J.P. replies: I'm thinking Mr. Corsi had to be bummed when Obama released his birth certificate right before the book was published. Looks like Corsi made a mistake with his title... I can't help wondering if Obama released the birth certificate to kill Corsi's book. But the gist of this book is still valid, and I have the Kindle version pre-ordered in spite of the birth certificate being public now. For me it's never been about where Obama was born, it's been about his secretive, mysterious background. About all we know of Obama's life is that he was constantly surrounded with communists. I've been meaning to add my own "birther" page to the site, concentrating on Obama's shady background and dubious credentials.