What if Barack Obama was president?
June 2, 2012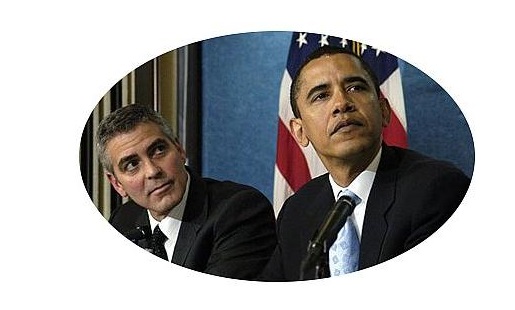 [J.P.'s Moment of Common Sense on Broad View, KBZZ 1270 AM and 96.1 FM in Reno. Listen to Broad View live Saturdays at 2:00 PM Pacific Time.]
When George Bush ran for president in 2000, the mainstream media brought up the issue of "
gravitas
." Remember that? They thought he lacked it, believed he needed it, and decided he was trying to acquire it on the sly by picking Cheney as his running mate.
You see, everybody knows Dick Cheney has gravitas the size of bowling balls – enough for ten normal men, or two Hillary Clintons. He helped Bush get through his first eight months in office, sort of a presidential puberty, then the 9/11 attack happened and Bush grew his own gravitas. That's how it happens with men sometimes – they grow 'em when they need 'em.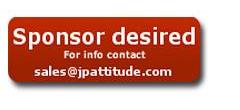 Unfortunately, the mainstream media is nothing if not inconsistent and hypocritical, so twelve years later they obstinately ignore the fact that the current occupant of the White House has his own gravitas problem: namely, that he doesn't have any. And shows no signs of growing any.
Dictionaries define gravitas as "high seriousness, sobriety, in conduct and speech," but a man can't be serious when he's playacting. Barack Obama has made a living fooling people with his appearance. He looks good in a suit and he reads speeches off the teleprompter like a champ, but that's not the same thing. Nice as he sounds reading speeches, the words themselves are often ludicrous and sometimes borderline insane. Like when he claims to be a budget cutter. That qualifies as a joke. And remember when he stood in front of Congress and accused the Supreme Court of doing something they'd never done, when everybody in the building knew they'd done it many times? That was during his State of the Union speech in January 2010. It wasn't just wildly incorrect, it was rude – a partisan, unserious, unpresidential statement.
Even Winston Churchill couldn't mold the pillars of history speaking words like, "
Th-Th-Th-Th-Th-... That's all, folks!
"
(But come to think of it, comparing Obama to Porky the Pig isn't fair... to Porky.)
Watching Obama stride on stage, which he does nearly
every day
while campaigning for president for
eight straight years
now, you can't help thinking that he fills the role of president perfectly. It's like Hollywood cast him... which, come to think of it, given how much money they poured into his campaign, they
actually did
in a way. Watching Obama is like watching Rock Hudson woo his leading lady in a movie: you feel like he was the smoothest operator who ever set his sights on a woman. Of course, turned out Rock was looking right past his leading lady, at the cameraman.
Watching him play his role, you can't help wondering, "What if Barack Obama really was the president he plays: full of the high seriousness that comes with being a leader, transcending color and race, eloquent, knowledgeable, bringing a new attitude to politics, uniting us instead of dividing us, ending the wars like he promised, healing our economy, promulgating fairness... all that stuff?"
Wouldn't that be something?
Instead of insulting the Supreme Court to their faces, angering them so much they won't attend his speeches anymore, he could have said something like this (imaginary quote):
"Unfortunately for those of us who want to solve the problem of too much money in politics, the Supreme Court ruled that our campaign finance laws are unconstitutional. We bow to their wisdom in such matters – that is why they're there – but I call upon Congress to find a new solution, something that will solve the problem without violating our rights as free Americans."
Doesn't that sound good? Doesn't that sound like the president we were promised, for whom so many people voted?
How about the Henry Gates affair where Obama said, "Now... I don't know, not having been there and not seeing all the facts, what role race played... But I think it's fair to say... the Cambridge police acted stupidly."
C'mon, Mr. President. You could have said something like this (imaginary quote):
"As a black man I'm sensitive to racial prejudice, but until all facts are known it's not fair for any of us to be accusing anybody of anything. I'm confident the city of Cambridge will handle this matter appropriately."
That
would be gravitas.
That's
what it would be like to have Barack Obama as president, instead of this actor we have in the White House
playing
Barack Obama as president.
And
that's...
today's dose of common sense.
"The art of acting consists in keeping people from coughing." – Benjamin Franklin

"Acting is nothing more or less than playing." – George Eliot


From Grand Rapids, Michigan, USA
Tweet
June 7, 2012
- What a marvelous effort. What strength of character! Imagine the sacrifice; taking time out on his busy fundraising day in Beverly Hills and San Francisco to make a "personal"
Tweet
. They must be rolling in their graves over there in Normandy saying: WHAT???? -
Don B., Reno
J.P. replies: And of course nobody from the World War II generation, like my parents (my father actually landed at Omaha Beach), has the faintest idea what a "Tweet" is. So they couldn't receive the president's message.
June 3, 2012
- Hey, look,
Doug Ross
has me listed FIRST
again
. Thanks, Doug! Here's the screenshot, preserved for eternity: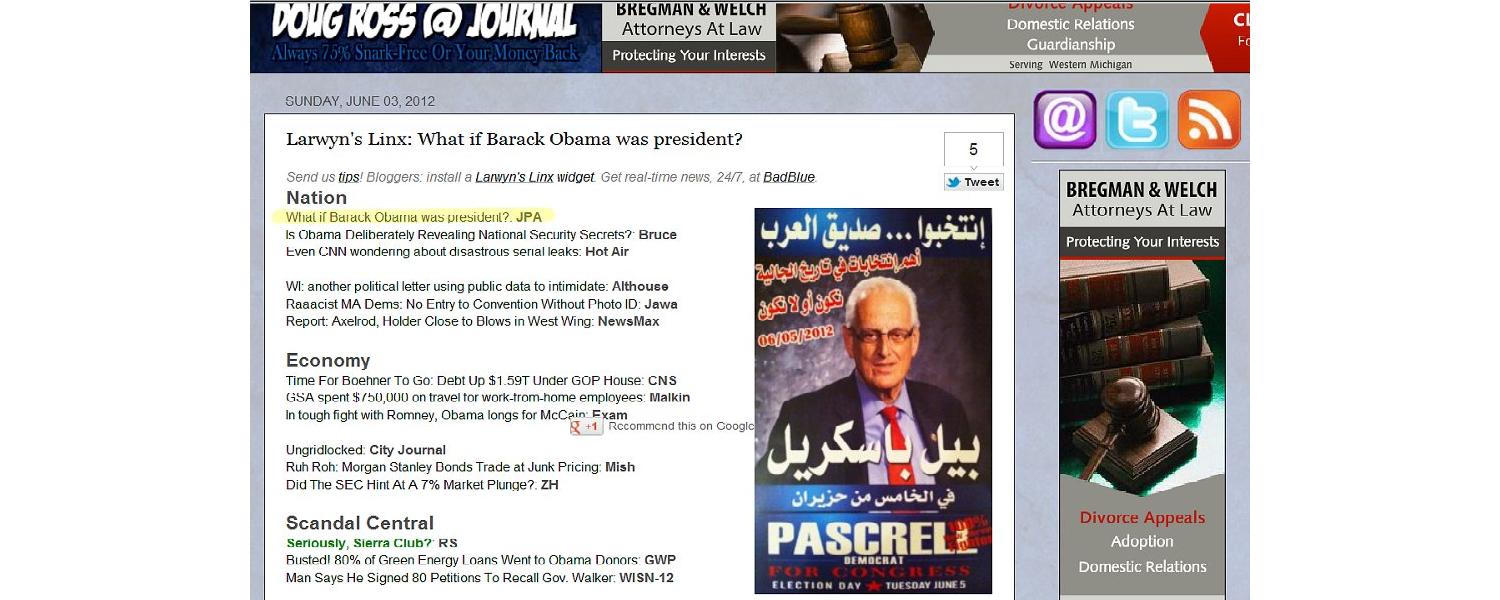 It's always a good thing to be linked by Doug Ross because it results in a jolt of extra visitors. –
J.P. Travis, Reno
June 3, 2012
- This is wishful thinking after watching him since the election. He is a shallow, conniving, empty suit not even qualified to run a lemonade stand. He is a fabrication, a racist and a pathological narcissist with a mental disorder. He is now more dangerous than ever, since he sees his re-election in danger. Don't put nothing past this guy, he'll even start a war with Iran if it suits him. His recent and repeatedly leaked national security issues is that of a desperate man, willing to sell america out, out of spite for rejecting him. He is not done with us yet. Mark my words, you'll see a ragingg meltdown in the near future. –
Cali, Florida
June 2, 2012
- You're worried about offending Porky the Pig but unconcerned about offending actors? C'mon, man, don't compare the man to actors! I'm studying drama and theatre and until I read this I felt good about myself. –
Susan P., Reno