Brace yourself like a man, Tim Tebow!
December 3, 2011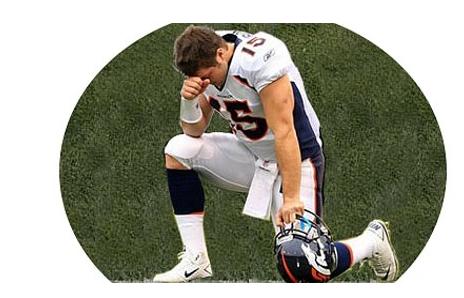 Given his record, Timothy Richard "Tim" Tebow should be unanimously proclaimed an NFL hero, but because he is openly and adamantly Christian he gets a barrelful of criticism, vitriol, and insult instead. It would be funny if it wasn't so revealing about our society.
How did we get to a point where a man loving Jesus Christ was bad?
This past Sunday, Tebow finished his sixth week as the starting quarterback for the Denver Broncos… and the Broncos won again. That was the fourth win in a row. For the record, they were 1-4 before Tebow took over as quarterback and they've gone 5-1 since.
When a team goes from winning 20% of its games to winning 83% of its games, and the only difference is one guy, that's remarkable. To put this in perspective, when you hear the words "best quarterback in the NFL over the last ten years," the name that pops into your head is either Payton Manning or Tom Brady. Manning isn't playing this year, but Brady is and he's won "only" 73% of his games. When you hear the words "best current quarterback in the NFL," the name that pops into your head is Aaron Rodgers, whose Green Bay Packers won the Super Bowl last year but "only" 63% of their regular season games.
After the Bronco's beat the Miami Dolphins in a dramatic come-from-behind victory led by Tebow (his first start), the Detroit Lions flew into Denver and spanked them soundly, 45-10, spewing some gratuitous insults as a bonus: Lions linebacker Stephen Tulloch, for example, knelt on the field in mocking pantomime of Tebow's habitual prayer position after sacking him; and Lions tight end Tony Scheffler did the same thing later in the game.
Mocking a prayer... that's like taking the Lord's name in vain
during a thunderstorm
. In the locker room after the game, the insults continued from the Lions:
"Come on – that's embarrassing. I mean, it's a joke. We knew all week that if we brought any kind of defensive pressure, he couldn't do anything. In the second half it got boring out there. We were like, 'Come on – that's your quarterback? Seriously?'"
Being happy that you won is one thing – rubbing it in with post-game insults is something else. Every single game all season long, one of the two teams will lose and many of those losses will be ugly and humiliatingly one-sided (the Indianapolis Colts have lost every single game this year, by an average score of 13 to 30 for crying out loud), but only when Tim Tebow is involved do people feel an urge to channel Don Rickles.
Why is that?
During games, the one obvious difference between other players and Tim Tebow is that he kneels in prayer after every touchdown, an act for which fans have coined a term. They call it "
Tebowing
." Lions defensive star Ndamukong Suh seemed to acknowledge the spiritual good vs. evil battle fueling the Lions' insults when he gloatingly said after the game, "Evil prevails."
So how's that "evil" thing working out for Mr. Suh? Since that game against Denver, the once-flourishing Lions have gone 1-2 and fallen to third place in their four-team division, while the Denver Broncos have gone 4-0 and moved up to second. Furthermore, Ndamukong Suh was kicked out of Detroit's last game for stomping on the arm of a Green Bay Packer who was lying on the ground (guess he wasn't kidding about that evil business), and then suspended by the NFL for two games. Maybe Suh should be more careful about which side he chooses in the good vs. evil fight.
"Before he even set foot on an NFL field, it was football gospel that the beatific Gator was a 'great competitor' with 'great intangibles' who was a 'born leader,' breathless descriptions... that carried with them one powerful underlying message: Tebow sucks."
That quote is from
Rolling Stone
magazine. You can sense the hatred, which is odd because this is a
football player
we're talking about, not Saddam Hussein. And it isn't just national newspapers driven to extremes. This is what Mark Kiszla of the hometown
Denver Post
wrote after the Lions game:
"So maybe we need a new definition for Tebowing. It's a prayer for mercy. Please, in the name of heaven, bring us somebody who can actually play quarterback... Right here, right now, Tebow is the worst quarterback in the NFL."
And former Denver quarterback Jake Plummer made it clear – just in case anybody cares what Jake Plummer has to say anymore – that he is sick of hearing about and watching Tebow's prayers:
"I think that when he accepts the fact that we know that he loves Jesus Christ, then I think I'll like him a little better. I don't hate him because of that, I just would rather not have to hear that every single time he takes a good snap or makes a good handoff."
In case you're wondering, no, Tebow does not kneel and pray after every snap or handoff. Hyperbole seems to be the norm when people start talking about this guy. Yes, he strips naked and jumps into a hot tub on the sidelines for a little refresher baptism
in between
snaps, but he does it quickly so as not to delay the game.
Rolling Stone
was positively elated after Denver lost to the Lions:
"When Tebow [turned] in one of the worst performances in the history of quarterbacking, there was something perversely satisfying about the spectacle."
Sporting News
took a poll of NFL players asking them who is the most overrated player in the NFL, and the winner was Tim Tebow, which begs the question: how can a man be overrated at the same time he's awash in a flood of insults and criticism? Makes no sense.
Believe it or not there is even a website dedicated to insulting Tim Tebow called, "
Tim Tebow: 10 Reasons Denver Broncos QB Is an Insult to the Modern NFL
." Some samples:
"Boomer Esiason: He can't play. He can't even throw."

"Merril Hoge: It's embarrassing to think the broncos could win with tebow!!"

"Steve Young: What Denver is doing with Tebow is embarrassing, not sustainable, and a gimmick."

"John Elway: When you look at our third down numbers, those have to improve. I mean, that's the bottom line."
Those guys are all ex-football players, and while Elway's words aren't too harsh, he happens to be the guy who runs the Denver Broncos, which makes him Tebow's boss. Ouch. And Elway said those words
after
watching Tebow win his fourth game out of five as a starter. Double ouch.
New York Jets player Darrelle Revis said the Jets' only worry coming into their November 17 game in Denver was falling asleep while Tebow was quarterbacking. Then the Broncos beat the Jets 17-13 with Tebow leading an end-of-game 95-yard drive in which he completed three of five passes and ran for 57 yards, including a 20-yard touchdown run. No word on whether Revis had trouble staying awake. Afterward, the New York Daily News ran a two-word headline describing Tebow's touchdown:
"CHOSEN RUN"
Even when he's winning, you see, people take digs at his religion.
Not everybody is attacking Tim Tebow. For the most part Christians root for him (whenever their home team isn't playing against him), Denver football fans love him, and his teammates? The way they mobbed him after that winning touchdown against the Jets, he could hardly get his Tebowing done:
After the game, teammate Eddie Royal said:
"There's something special going on here. We really believe in each other. We're playing together as a team and a family. I looked around the huddle that last drive, there was no fear in anybody's eyes. Especially not the quarterback's... I don't know what to say about that kid. For him to lead us 95 yards like that, it tells you everything you need to know about him as a football player, as a competitor, as a man."
"Something special," people who "really believe," "family," "no fear" – hmm, where else do we hear words like that on Sundays? As another teammate, Orlando Franklin, says about Tebow:
"All the fans know it, his teammates know it: he brings a little bit more to the huddle."
Yeah, he brings a little something extra into the huddle, and we all know what it is. I'm guessing even the dumbest, turdiest, little Rolling Stone writer knows exactly what it is that Mr. Tebow is bringing into those huddles... that's what makes him so mad.
In the final analysis, the Holy Spirit that Tebow brings into his huddles will not win football games for him, although it never hurts to bring calm and fearlessness and faith into one's endeavors, but if anybody is looking for the use that God is making of a famous footballer's public faith, I think I might have a notion.
It's not to win football games and it's not to punish the wicked, so don't go there.
I know it's scary to think that I, of all people, might have a glimpse into the workings of the Almighty, but this time I think I do: Tim's Tebowing is exposing, by their own insults and vitriol, the people who have hardened their hearts against the Lord. Exposing them to us, and more importantly exposing them to themselves.
Denver is in Minnesota to play the Vikings tomorrow... I hope the Broncos Tebow the hell out of them.
"Then the Lord answered Job out of the storm. He said: "Who is this that darkens my counsel with words without knowledge? Brace yourself like a man; I will question you, and you shall answer Me." – Job 38:1-3


From Reno, Nevada, USA
Tweet

Followup 1:
December 4, 2011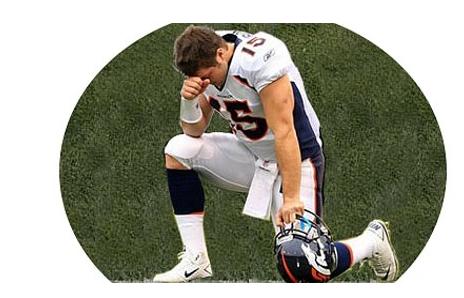 Tim Tebow and the Denver Broncos beat the Minnesota Vikings today, their 5th win in a row. The Broncos are now 6-1 with Tim Tebow as their quarterback, tied for first place in their division (with the tie-breaker in their favor), and the sound of anti-Christian haters gnashing their teeth in frustration can be heard from sea to shining sea. Whatever happens the rest of the season, the Tebow quarterback experiment will remain one of the NFL's most compelling stories.
Also, on a different note, the troubles of Ndamukong Suh continue. As B.B. from Detroit points out in the comments below, the suspended Suh crashed his car into a tree late Friday night in Portland. No serious injuries, no drunk driving, no real tragedy... so we can laugh about the way the Detroit Lions seem to be jinxed since mocking Tim Tebow's prayers.

Followup 2:
January 8, 2011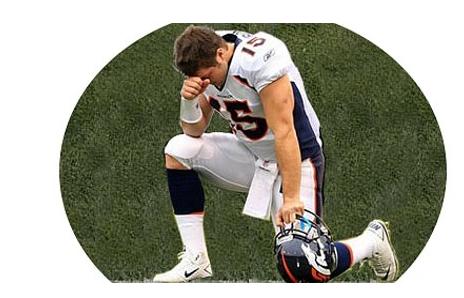 This is my last update on Tim Tebow... I think. (No promises.) You have to love the way people keep tearing him down and he keeps proving them wrong. It's inspirational, and it's fun.
After going 7-1 as a starter, Tebow finished the regular season with three losses in a row and looked bad doing it. The critics who were semi-silenced during that 7-1 streak started howling and shrieking again, accusing him of being a bad quarterback, a pious fool, and the man who kidnapped the Lindbergh baby. But the Denver Broncos made the playoffs anyway, and today they faced the Pittsburgh Steelers, the team with the best defense in the NFL, in the playoffs.
Guess what: Denver won 29-23, in overtime, on an 80-yard pass from Tim Tebow. The Steelers gave up only two 40-yard pass plays
all season,
but Tebow connected for gains of 51, 58, and 40 in the second quarter alone... plus another gain of 30. Add those to the 80-yarder in OT and this was (dare I say it?) an other-worldly performance.
The cacophony of insults and disparagement in the days leading up to this game was vicious. Stop reading if you have delicate sensibilities. Bill Maher, lowbrow lord of snarkiness on HBO, started with a Christmas Eve Tweet during the Denver/Buffalo game which Denver eventually lost:
"Wow, Jesus just fucked #TimTebow bad! And on Xmas Eve! Somewhere in hell Satan is tebowing, saying to Hitler "Hey, Buffalo's killing them""
A week later, he added a gratuitous jab while talking about Katy Perry breaking up with her boyfriend:
"My thoughts/prayers go out to Russel and Katy and I'm calling on our lord and savior Tim Tebow to bring them back together for a makeup fuck"
All I have to say is this: if you're a fan of Bill Maher and watch his show, you need to re-examine your inner workings. The man is sick.
Tuesday, Baltimore Ravens linebacker Terrell Suggs had this to say about Denver's loss to Kansas City last Saturday:
"With all due respect we don't need God on our sidelines. Once again God had to save Tim Tebow and the Denver Broncos. He couldn't even give them two drives?"
Sports writers resorted to outright lying.
Story
after
story
implied that the Broncos had so little faith in Tebow that backup quarterback Brady Quinn was getting extra practice reps to prepare him for replacing Tebow early in today's game. But CBS commentator Phil Simms said, "I watched the entire practice Friday, and Brady Quinn got only two practice snaps, the same number he gets every week." Why would sports writers lie? What is it about Tim Tebow that makes people act like Cinderella's evil step-sisters?

December 3, 2011
- Suh's troubles continue:
he crashed his car into a tree last night
. Suddenly he's jinxed. -
B.B., Detroit
December 3, 2011
- This tradition of kneeling is a symbol of humbleness and honor, in recognition of God. Seems to me we could all learn from Tebow. -
Still in Reno
December 3, 2011
- Go Tebow, Take the NFL by storm. Root for him every week and I am NOT a Bronco fan and never have been but will be cheering this young man all the way. God keep you strong. -
Sue A., Vancouver (Wash.)
December 3, 2011
- There's a place for praying and a place for football and the two places are not the same. Simple. -
Eric, California
December 3, 2011
- It's possible that Tim Tebow could have used a bit more seasoning before stepping into the first-string quarterback role. But with him at the controls, the Broncos are winning their games. It's possible that Tebow's objective skills don't measure up to those of other premiere NFL quarterbacks. But with him at the controls, the Broncos are winning their games. It's possible that Tebow is being slightly too ostentatious on the field about his faith, such that it's sometimes a distraction for the fans. But with him at the controls, the Broncos are winning their games. The sole reason for the objections and derision Tebow has suffered is his ardor for his Christian faith. That's shameful. But it's by no means unprecedented. Look at the odium Jim Caviezel has had to bear for being a devout Catholic, or Mel Gibson before he went off the rails. The obvious question is why. The obvious answer is that the derogators find Christianity somehow threatening. A slightly less obvious answer is that they regard themselves as intellectually and/or morally superior to Christians merely by virtue of their NON-Christianity. Finally, it just might be that Tebow's complete indifference toward his detractors and their jeers has propelled them into a frenzy. There are precedents for that, too. I think back to the famous interview in which a "journalist," seeking to trap Tebow into some sort of contradiction, asked him if he was saving himself for marriage. Tebow immediately replied "Yes, I am" -- which stunned a roomful of reporters into incredulous silence. I remember the pro-life commercial featuring Tebow and his mother, aired during the Super Bowl a couple of years ago, which quite a number of groups attempted to keep off the air. They very nearly succeeded -- and when it did air, the gnashing of teeth could be heard in China. And I find myself thinking, "What on Earth is wrong with these people? Have they so little confidence in their own convictions that the mere existence of someone with contrary convictions causes them to doubt their own worth?" And I find myself thinking, "Yes. Exactly. It's the pre-eminent characterological malady of our time." Be well! -
Francis P., Connecticut
J.P. replies: Wow. I hate it when a comment is better than my column. Kudos, Francis.